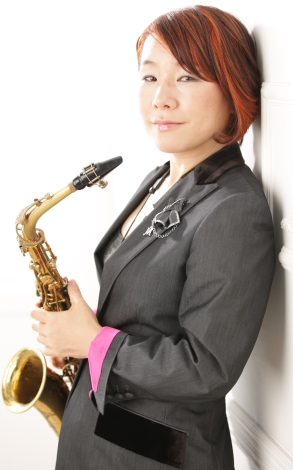 MICHIYO KOBAYASHI Biography
Alto saxophone player, composer, arranger.Saxophone lecturer
(lecturer of NAGOYA UNIVERCITY OF ART jazz and pops program,2012-2015)
Born and raised in Nagoya, MICHIYO started to learn the electric organ(YAMAHA) when 5 years old. In elementary schoolCshe belonged to the recorder(wind instrument) club and played baroqueCcharch music and Japanese folk songs etcDIn junior high school, she played flute, trumpet, contra bass in the brass band. At the same timeClearned to play jazz with electric organ. In high school, changed to have alto sax. The brass band there, treated jazz tunes. She often listened to the jazz programs on the radio at home. Then, she majored in English literature at collegeCand belonged to the jazz band(combo) there. During the college, she studied to compose and arrange at YAMAHA music schoolD After graduated, she started to study the improvisa'"ion(and chord progression, scales etc.) againCworking as a teacher of electric organ and the ensemble lesson at YAMAHA music school for a whileDShe learned jazz piano from jazz pianist YOSHIHIKO NAYA(p)Cand took lessons of the improvisation by HIDEHUMI TOKI(as).After finished TOKI's carriculum the most fastest among his students he ever had, she started to play as a member of the SUNAO WADA(g)band in Nagoya.
March 2003Cshe released her debut albumgLuck Of Piecesh from Swing Cat's RecordmpersonnelFKoji Goto(p)Masashi Kato(b)Yoshihito Eto(ds)Recorded on 29-30 SeptemberC2002n. April 2008, released second albumgMind Pictureshfrom jazz inn Lovely label.[personel:Koji Goto(p)Go Shimada(b)Kazuyoshi Kuroda(ds) Recorded on 14-15 February,2008] She became the first female professional saxophone player in Nagoya.
yplayed with these musiciansz
Masahiko Osaka(ds) Yoshihito Etoh(ds) Seiji Tada(as) Tatsuji Yokoyama(perc) Toshihiko Inoue(ts) Manabu Ohishi(p) Tetsuroh Kawashima(ts) Yutaka Shiina(p) Tatsuya Nakamura(ds) Suetoshi Shimizu(ts) Masahiro Sayama(p) Stan Gilbart(b) Tsutomu Okada(b) Akira Ishii(p) Yousuke Inoue(b) Keiji Matsushima(tp) Tommy Cammbell(ds) Fukushi Tainaka(ds) Dairiki Hara(ds) Shigeharu Mukai(tb) Hikari Ichihara(tp) Junichiroh Ohguchi(p) Nobuyoshi Ino(b) Yoshio Ikeda(b) Makoto Oka(ts) Daiki Yasukagawa(b) Junko Makiyama(vil)
Sit in the bands many times-Kousuke Mine(ts)Quintet,Seiji Tada(as)Quartet"the most".
Had opportunity to sit in -Lew Tabackin(ts), Sonny Fortune(as), John Hicks(p), Wayne Dockery(b), Steve Johns(ds), Abraham Burton(sax), Serge Delate(p).
Played with Vincent Herring(as) at jam session in NY, 2004.
Please check out the schedule, tooDHere are some photos. Thank you.
yReviewsz
Second AlbumgMind Picturesh Magazine 5 Reviews(2008)
Magazine gThe Saxh yTHE SAXz(Also Pub.)(Jul.2003)
Magazine Gig Report ySWING JOURNALzGig@Ochanomizu NARU(Apr.26)(p.102)(May2009)
News Paper 2009 "Tsuruma Park 100th Anniversary concert"(Oct.2009)
Magazine Gig Report ySWING JOURNALzGig@Ochanomizu NARU(May16)(p.237)(Jun.2010)@
WebReviewySax&Brass Magazine "Blog"(Rittor-music)z(May2008)
yFM Radio and TVz
ECity FM GIFU yFM WatchzGuest- Oct.2002
ECBC-TV yBandoh reserch "Soko ga Shiritai"z -Jun.2003
EClover cableTV -Live Performance on Air-Apr.2004@
EFM-RADIOi yR-i JAZZz Guest -Feb.2008
EOKAZAKI CableTV -Live Performance on Air-Apr.2008
EFM-RADIOi @yR-i JAZZz Guest -May.2008
EFM-RADIOi @yR-i JAZZz-Live Performance on Air -May.2008
EFM-RADIOi @yR-i JAZZz Guest-Dec.2009
EKANAZAWA FM-N1 yN1 Communityz Guest -Oct.2012
yConcertsz
ECitizen ConcertyKasamatsu city (GIFU)z(June 2001) (Kasamatsu central community center,GIFU pref.)
ECitizen ConcertyHekinan city(AICHI)z(Nov.2001) (Hekinan-city art & culture hall ,AICHI pref.)
ECitizen ConcertyKasamatsu city(GIFU)z(June 2002) (Kasamatsu central community center,GIFU pref.)
EOutdoor EventyTokai-TV "Summer Resort Park in Oasis21ETwilight Jazz"z(Aug.2003) (Oasis21, NAGOYA)
EOutdoor Eventy"Atsuta-no-Mori" produced by Minato coopz Michiy Quartet(May 2004)
EEventy"Okazaki Civic Center Uchida Osamu Jazz Collection PR exhibition"z(July 2004)
ECitizen Concertƒgy"16th Kasugai Art theatervproduced by Kasugai Civic Cultual FoundationzMichiyo Quartet(Aug.2005) (Kasugai culture forum hall, AICHI pref.)
ELecture class Guest ConcertyYamaha Music Fundation Electone teachers workshopz@Michiyo Trio(Sep.2005)(Yamaha resort Tsumagoi ,Music garden hall, SHIZUOKA pref.)
EOutdoor EventyMino city(GIFU)"12th Mino Washi Akari-ArtiCreative Lanternj Contest & Exhibition"z(Oct.2005) (Mino city, GIFU pref.)
ELecture class Guest ConcertyYamaha Music Fundation Electone teachers workshopz@Michiyo Trio(July 2006)(Yamaha resort Tsumagoi ,Music garden hall, SHIZUOKA pref.)
EAnniversary of the school establishment yNagoya Tsuyuhashi Elementary School "100th anniversary of the establishment concert"z@(Nov.2006)
EOutdoor EventySONY Kouta Tec. Summer Festivalz@(Aug.2007)
EOutdoor ConcertyOkazaki city(AICHI)"Okazaki Civic Center` SPRING JAZZ FESTA`"z@Michiyo Quartet(Apr.2008) (Okazaki Civic Center, AICHI pref.)
EOutdoor Music Festivaly"Sakae Minami Music Festival2008"z@(May2008)
EOutdoor Eventy"Nagoya Groovin' summer2009"z@(Aug.2009)
EOutdoor Eventy"58th Nagoya Hirokouji Summer Festival"z@(Aug.2009)
EOutdoor Eventy"Tsuruma Park 100th anniversary concert"z(Oct.2009)
EUnivercityl Event@yMeijo Univercity "Home comming day"z@(Nov.2009)
EFM Radio Eventy"FM RADIO-i@10th Anniversary Super Concert"z@THE BOTTOM LINE (Apr.2010)
EArt Museum ConcertyToyota city museum"Jazz in Museum of Art"z@Michiyo Qurtet (Oct.2010) (Toyota city museum, AICHI pref.)
EOutdoorEventyAichi Triennale 2010 "Nagoya de la Festival =Jazz="z Michiyo Quartet(Oct.2010)
EEvent ConcertyMeitoh-ku Jazz Club "10th Anniversary Concert"z@(Oct.2010) (Nagoya City Performing Arts Center)
ESchool ConcertyAichi Nagakute city Educational program"deart2012"zNagakute junior high scool, Minami junior high scool, AICHI pref.(June 2012)
ECitizen Cncerty"JAZZ IN THE ROOM 2012"z@Nagakute Bunka-no-ie Kaze-no-Hall, AICHI pref.(July 2012)
ECitizen Concerty"JAZZ CAFE Michiyo Kobayashi Concert"z Michiyo Duo(Oct.2012) (produced by Nagoya City Cultural Promotion Agency) (West cultural small theater, NAGOYA)
ECitizen ConcertyKomaki city Jazz concert and Lecturez@Michiyo Quartet(Oct.2012) (produced by Komaki city board of education) (Komaki city Ajioka civic center hall, AICHI pref.)
ECitizen ConcertySeki city Jazz concertz@Michiyo Quartet(Mar.2016) (produced by Seki city Cultural Association) (Seki City Culture Hall, GIFU pref.)
ECitizen ConcertyFukuroi city Cafe concertz@(May2016) (Fukuroi city Tsukimi-no-Sato, SIZUOKA pref.)
yNewspaperz
EArticle & Photo @yGifu Newspaperz Gig at "Natural Cafe •Gallery"(Apr.2003)
EArticle & Photo @yGifu Newspaperz Jazz Concert at "Fukujouji Temple"(Gujo Hachiman city,GIFU ,Aug.2006)@
EArticle & Photo @yGifu Newspaper& Chunichi Newspaperz "Tsuruma Park 100th Anniversary concert"(Oct.2009)
EArticle & Photo @yChunichi Newspaperz Jazz concert at Nagakute Minami junior high school(Jun.2012j
EAdvt. & Photo @@yChunichi Newspaperz "JAZZ CAFE Michiyo Kobayashi Concert"(Sep.2012)
yMagazinez
EArticle@@@@@ySWING JOURNALz@"picked up 30 new faces in jazz 2002"(p.115)(Jun.2002)
ECD Review @@ySWING JOURNALz@(Jun.2003j
EIntervew, opening page photo yTHE SAXz(Also Pub.)(Jul.2003)
EPhoto&Profil @yJazz Hihyo No.128z@"Female Jazz Players 2005"(Oct.2005)
EPhoto @@@@@yOtoko-no-Kakurega<Travel around Jazz>zMonthly (Idea Life Pub.)(Sep.2006)
EPhoto@@@@@yOtoko-no-Kakurega<Travel around Jazz>z(Idea Life Pub.)(Jun.2008)
ECD Review@@ySWING JOURNALz(Jun.2008)
ECD Review@@yTHE SAXz(AlsoPub.)(Jul.2008)
ECD Review@@yJAZZ LIFEz(Jul.2008)
EPhoto@@@@ ySWING JOURNALz@"musician directry"(p.135)(Dec.2008)
EGig Review@@ySWING JOURNALz@Gig@Ochinomizu NARU(Apr.26)(p.102)(May2009)
EPhoto@@@@@ySWING JOURNALz@"musician directry"(p.134)(Dec.2009)
EGig Review@@ySWING JOURNALz@Gig@Ochanomizu NARU(May16)(p.237)(Jun.2010)@
EInterview,Photo yMeitoh Jazz Club report vol.53z(Aug.2010)
EPhoto@@@@@yJAZZ JAPANz@"musician directry"(p.150)(Dec.2010)
EComment@@ ySax & Brass magazine vol.18(Rittor-music Feb.28) gWho is the most greatest horn playerHTop 50h(p.33)(Feb.2011)
EInterview,PhotoyTHE SAX(50th Anniversary)z(Also pub.) gJapanese Saxophone Players Directoryh(p.52)(Nov.2011)
EPhoto @@@ @yJAZZ JAPANz@"musician directry"(p.132)(Dec.2011)
EIntervew,PhotoyNagoya West cultural theater papergHana-no-kihz(Sep.2012)
yOther activityz
EMember of "ZIP-FM Radio Program Deliberation Committee" - During 2010
yWeb Interview(all Japanesez
¼•¶‰»¬Œ€ê"­sE'©'í'産u‰Ô'̖؁v2012.9
–¼"ŒƒWƒƒƒY‹äŠy•" 2010.8
Jazz Comme 2009.2
jazz smile 2006.7
"à"cCƒWƒƒƒYƒRƒŒƒNƒVƒ‡ƒ" 2004.10
çŽí'Z"¯'‹‰ïOB–K–â 2011.12
ypick up gig recommendedz
2015.9.10 jazz inn Lovely
2014.1 jazz inn lovely
2013.3 jazz inn lovely